Bed & Breakfast | Spa
The Mühlenvilla
sustainable B&B with award-winning natural garden
4 authentically-furnished accommodations
Organic, regional, seasonal breakfast
About Us
Welcome to the Mühlenvilla at the Bützow harbour
In unserem familiengeführten Bed & Breakfast erwarten Sie 4 einzigartige, liebevoll eingerichtete Unterkünfte. Von der 65m² großen Luxus-Suite bis zum 10m² großen Teehaus ist für jeden etwas dabei. Jedes unserer Zimmer ist mit Originalmöbeln aus der Gründerzeit und dem Jugendstil ausgestattet, kleine Details wie ein antique smoking table from the 1920s or an old folding game table complete the extraordinary flair of this heritage-listed guesthouse. 
On our 10,000m² waterfront property you can relax and unwind while a welcome drink is served. You can swim in the pool or in the Warnow River, walk along the Kiebitz meadows, watch wild birds or enjoy a massage and other wellness treatments in our spa.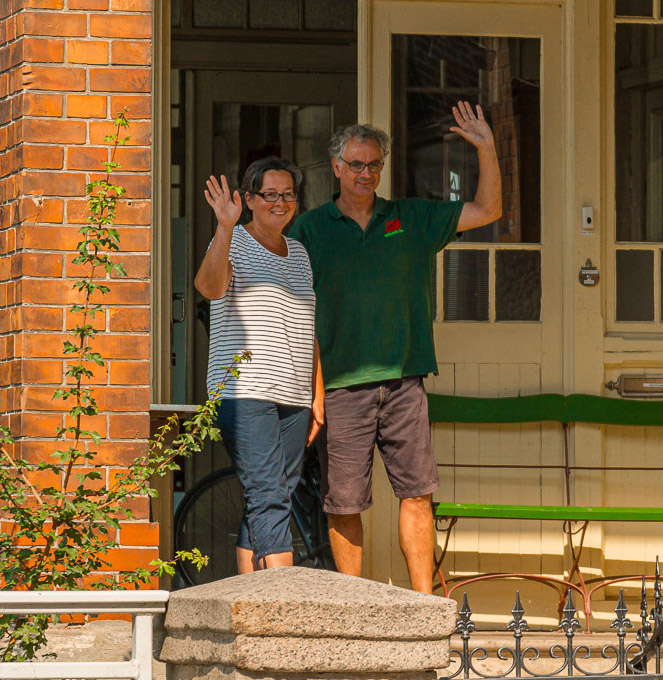 Visit our carefully restored and designed Mühlenvilla from the Victorian period. We look forward to welcoming you as our guests. 
Michel & Neil, your hosts
Discover
Our Accommodations
In addition to our luxurious rooms and suites in the main house, you can also stay in a traditional heritage tea house and a boathouse with private access to the water.
The Luxury Suite
Our large luxury suite is the centerpiece of our Bed & Breakfast. It consists of 2 spacious, separate bedrooms and a generous daylight bathroom with shower and stylish freestanding tub. It can accommodate up to 8 people.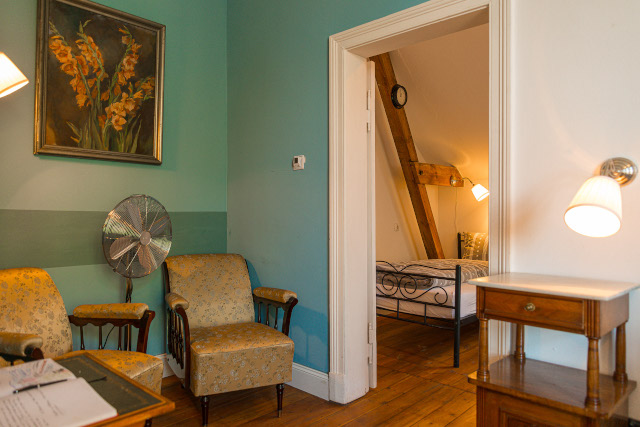 The Family Suite
Our Family Suite offers space for 4 people. It has 2 separate bedrooms and a large daylight bathroom with shower and a freestanding tub.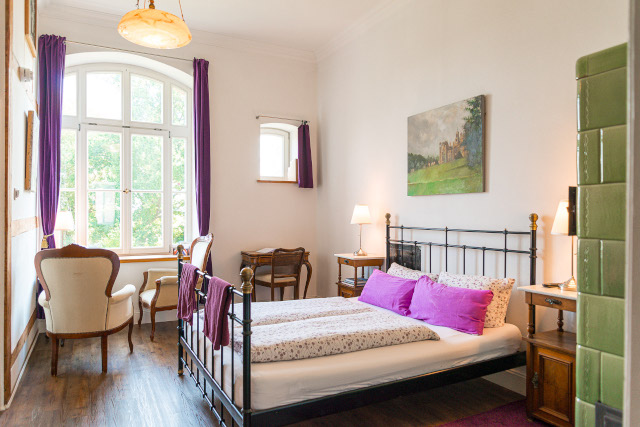 The Garden Room
Our spacious, bright garden room with ensuite shower is ideal for couples. Enjoy the splendid view of the garden and the Warnow River.
Regional & Organic
Our breakfast
Organic, regional and seasonal
The eggs come from our own Demeter chickens, the apple juice from our apple trees, the jams as well as the vegetables from our own organic garden, sausages and cheese from organic farmers.
Sustainable and eco-friendly
We avoid plastic and food waste. On a menu card, you choose in advance what you want to eat and you pay only for what you get. 
Offers
Here is what you can expect from us
Spa
Neil ist staatlich geprüfter Masseur und bietet vor Ort eine Reihe an Wellness-Massagen an. Lassen Sie sich zum Beispiel bei einer Klassische Massage, einer Fuß-Hand-Kopf Reflexzonen-Massage oder einer Hawaiianischen Lomi Lomi Nui Massage verwöhnen. Hier erfahren Sie mehr über das Spa-Angebot der Mühlenvilla.
Sauna
Unsere Sauna wird ab Herbst 2023 geöffnet sein.
Water sports
Water sports are very important to us on the Warnow. We have our own access to the river and offer a selection of water sports equipment:
SUP – Stand Up Paddling

Kanu: für 2 Personen
Free Wi-Fi
In all our accommodations except in the boathouse, you have free wi-fi.
Parking lots
The villa has 2 parking spaces. If these are occupied, you can also park in the free public parking lot 400m away.
Private bathroom
All accommodations have their own ensuite bathroom with shower, in the suites there is also a bathtub. Guests of the tea house have their own bathroom in the main house.
Cosmetic tissues
There is a box of cosmetic tissues in each room.
Hair dryer
A hairdryer belongs in every bathroom, of course.
Shampoo + shower gel
There are shampoo and shower gel dispensers in every bathroom. 
Kostenloser Wassersportverleih
Die Übernachtungspreise beinhalten einen Wassersportverleih. 
Free massage
Each guest receives one complimentary massage per 4 nights booked: garden room & family suite 30 minutes, luxury suite 45 minutes.
Extra pillow + blanket, smoke detector
In case it gets too cold or too hot. In the tea house, an additional heater can be rented (5 € / day). Please note that smoking is strictly prohibited in all accommodations. 
Flat-screen TV
All accommodations have a flat-screen TV.
Our rules
What else is important...
Checkin & Checkout
Check-in 15-19 o'clock, check-out until 10 o'clock. Late check-out until 12 o'clock is possible (for an extra charge).
During peak season, check-in is only available Thursdays through Sundays and at a 2-night minimum stay.
We try to accommodate changes as best we can.
Please let us know your approximate arrival time at least 4 hours prior to arrival.
Cancellation policy
Up to 7 days prior to arrival you can cancel free of charge. From the 6th day until the day of arrival you will pay an amount equivalent to 100%.
House rules
As we have a lot of animals ourselves, pets are not allowed in our house.
Smoking is not permitted indoors.
Parties and events are not allowed.
We are a B&B and not a hotel, so the rooms are cleaned only between guests. Extra cleaning (10 €) , a set of towels (5 €) and bed linen change (10 €) are available for an extra charge.
Information
Attractions in and around Bützow
Restaurants
In Bützow we can recommend the restaurant Bützowerhof, the takeaway Ramo (Pakistani), and the ice cream pavilion at the old harbour. In Schwaan, the Chilihouse (Indian-Pakistani) is a good choice.
How about a "Fine Wine Tasting"? You can find information here..
Bicycle and hiking tours
A total of 23 bike tours and 16 long-distance bike tours (e.g. Berlin-Copenhagen, Berlin-Rostock, Hamburg-Rügen or Krakow-Waren-müritz) lead through the island town of Bützow. If you only want to make a day trip, Warnemünde, Schwerin, Wismar, Pöhl or Schwaan are not far away.
For hikers and nature lovers there are numerous protected meadows, forests and lakes along the Warnow, which invite you to hike and walk. Directly behind the house are the remains of a medieval Slavic settlement.
Attractions
Visit Bützow Castle, which was formerly used as the bishop's residence and widow's seat of Duchess Sophie-Charlotte. The town hall, the collegiate church, the museum "Krummes Haus" and the miniature town are also worth a visit. 
Day trips by car
Visit the castle and the impressive old town of Güstrow or the "Boitiner Steintanz" in Tarnow, which still puzzles researchers today. Schwerin, the "city of seven lakes and forests", is also always worth a visit. 
In less than an hour, you are at the Baltic Sea coast. Here, you should definitely visit the Baltic resorts of Warnemünde, Heiligendamm and Kühlungsborn. And of course, the Hanseatic city of Rostock with its seaport and maritime flair should not be missed.
Reviews
Here is what our guests say
In Bützow die Villa an der Mühle
war wohl das Schönste unserer Ziele
Auf der Rad-Rund-Tour 'Rostock-Schwerin'
führte das Glück uns hier hin.
Als erstes: Vielen lieben Dank!
Nach elf Tagen mit dem Rad unterwegs war eure Villa eine RIESEN Ueberraschung! Ich war erstaunt von der schönen Einrichtung, dem herzlichen Empfang, den Tieren (besonders vom Pfau) und dem Garten an sich. Irgendwo habe ich ein Schild mit "Oase" gesehen und das beschreibt perfekt euren schönen Fleck Erde!
Nach einer ereignisreichen +  abwechslungsreichen Radtour genau
das Richtige zum Energie tanken + entspannen.
Leider (im Nachhinein) bin ich nur eine Nacht hier. Bei der schönen Atmospähre wäre ich gerne länger geblieben.
Ich werde von der Mühlenvilla schwärmen + euch weiterempfehlen!
Grüsse aus Berlin!
P.S. Die Gestaltung des Frühstücks mit der " Bestellkarte" kannte ich so noch nicht…. Find ich aber klasse!!!
Preis – Leistung hervorragend, Garten wunderschön, tolle Aussicht, Frühstück lecker.
Wir haben uns sehr wohlgefühlt, schöne gemütliche Einrichtung, sehr individuell.
Bestens im Riesen-Luxus-Bett geschlafen, gutgelaunte Kids, traumhaftes Bad.
Vielen Dank, wir kommen wieder, dann zum Paddeln.
Wozu nach Afrika fliegen?!
Zebras, Strausse und Kamele haben
wir in Sternberg gesehen!
Wozu Steinkreise in Schottland suchen?!
Bei Boitin gibt es gleich 3 davon!
Wozu in Irland rudern?!
Auf der Warnow kann man herrlich
paddeln und Libellen zählen!
Wozu in den Süden fahren?!
Sonne, 32 Grad im Schatten und
über 20 Grad Wassertemperatur hat
auch M-V zu bieten!
Und alles nur 2 Stunden von
Hamburg entfernt….
Wir haben den Kurzurlaub genossen.
Schon vorbei!
Ein Ort, an dem man sich sofort wohl fühlt!
Man merkt, dass hier, liebevoll, jedes Detail gewollt ist, ob Einrichtung des alten Hauses, oder der "wilde" aber wunderschöne, ökologisch wertvolle Garten!
1000 Dank für die schöne, viel zu kurze Zeit hier in der Mühlenvilla zu Bützow, geht an Michel und Neil (immer offen und bemüht den Aufenthalt so angenehm
wie möglich zu gestalten).
Die Strasse hört man nur wenn man das möchte. Die Mückenstiche sind der geringe Preis für die Flussidylle. Die Gegend gespickt mit vielen Seen lädt ein alles zu erkunden…. per Rad, Bötchen oder mit  dem Kfz.
Die Verpflegung hier in der Mühlenvilla (viel ist aus eigener Produktion: Eier, Marmelade…) ist köstlich und am meisten hat mich die Grillmöglichkeit beruhigt.
Nochmal innigsten Dank… ich glaube wir kommen wieder.
Visit us
We look forward to meeting you!
If you have any questions about one of our rooms, our location, or how to get here, please write or call us! We will be happy to answer any question.