Your healthy start to the day
Our breakfast
From continental to authentic Full English Breakfast, we offer a rich breakfast for every taste. As we try to avoid food waste, food waste, we don't give you a lavish breakfast buffet. Instead, you choose what you want to eat from a menu card in advance, and you get (and pay for) only what you choose. That way, we don't waste food and you don't waste money.
In a nutshell
Here's what you can expect from our breakfast:
Regional
Organic
Homemade
Rich
Plastic-free & zero waste
Healthy food from the region
Our breakfast is organic and as much as possible regional and homemade. Of course, this is not possible for all foods, but the eggs come from our own Demeter chickens, the apple juice from our apple trees, the strawberry, quince and blackberryjams as well as the vegetables from our own organic garden, sausages and cheese from organic farmers.
We also want to avoid plastic waste. You will not find packaged butter, jam or honey in mini-portions. We buy the ingredients for your breakfast in large packages (as plastic-free as possible) and put everything in reusable glass or ceramic bowls. In this way, we significantly reduce our consumption of packaging waste and food. And if some of the food is left over, we make our chickens happy.
By the way, the food is served in old, upcycled collection cups.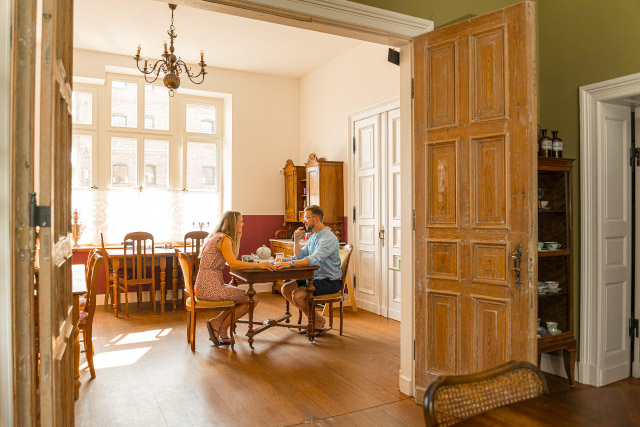 You can enjoy your breakfast either in our antiquely furnished breakfast room or, when the weather is nice, on our terrace overlooking the garden. On request we can also serve your breakfast in your room.
As far as possible, we try to cater for special eating habits. Please discuss your wishes with us.
Visit us
We look forward to meeting you!
If you have any questions about one of our rooms, our location, or how to get here, please write or call us! We will be happy to answer any question.