Sleep like in the founding days
Our rooms & suites 
5 individual accommodations
Each room with private bathroom
Authentic feel-good atmosphere
Our rooms and suites in the main house
In the main house, you can choose between a double room and 2 spacious suites. In total, we have sleeping accommodations for 14 people.
All rooms are lovingly furnished with original furniture from the Victorian period or Art Nouveau, which gives each room its own extraordinary style.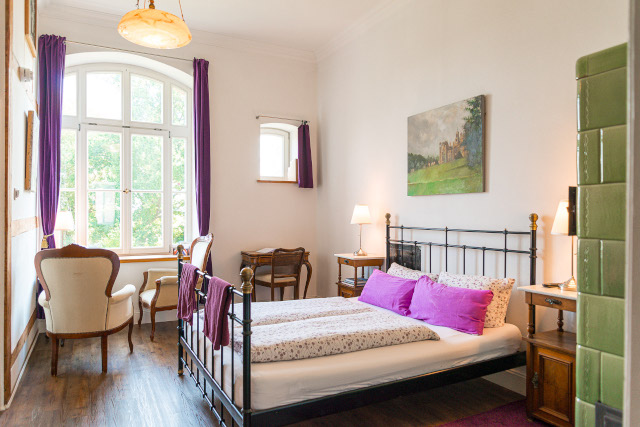 The Garden Room
From our bright and friendly Garden Room you have a wonderful view over our extensive garden and the Warnow River. Relax in the cozy sitting area surrounding the antique smoking table with brass plate and oriental pattern. A large double bed (180x200cm) with metal frame, 2 antique bedside tables, a tiled stove and a closet from the Victorian period complete the extraordinary style. An antique desk (a former fold-out gamer's table) and an overseas trunk from the founding period (from the house) can be found in this lovingly furnished room as well.
Your private bathroom has a large, floor-level shower.
Extra bed on request.
Here you will find everything you need:
23m²

private bathroom with shower

sitting area
desk
closet
books
WI-FI
Flat-screen TV
Price per night from
70 Euro
The Family Suite
Our 52m² Family Suite is ideal for 4 people. It has 2 separate bedrooms and a large daylight bathroom.
The main bedroom connects the bathroom with the 2nd bedroom ( walk-through room). It has a romantic double bed (180x200cm) with metal frame, an antique Art Nouveau vertico, 2 antique bedside tables and a cozy sitting area with 2 armchairs.
.
Through a door you enter the 2nd bedroom with

are 2 single beds in Art Nouveau style, a cozy sofa bed (extra bed on request) and another wardrobe in antique style

. 
The generous bathroom with the large shower and a typical freestanding bathtub offers you a lot of space. 
Here you will find everything you need:
52m²

private bathroom with shower and freestanding bathtub

sitting area, sofa
2 wardrobes
books
WI-FI
Flat-screen TV
Price per night from
90 Euros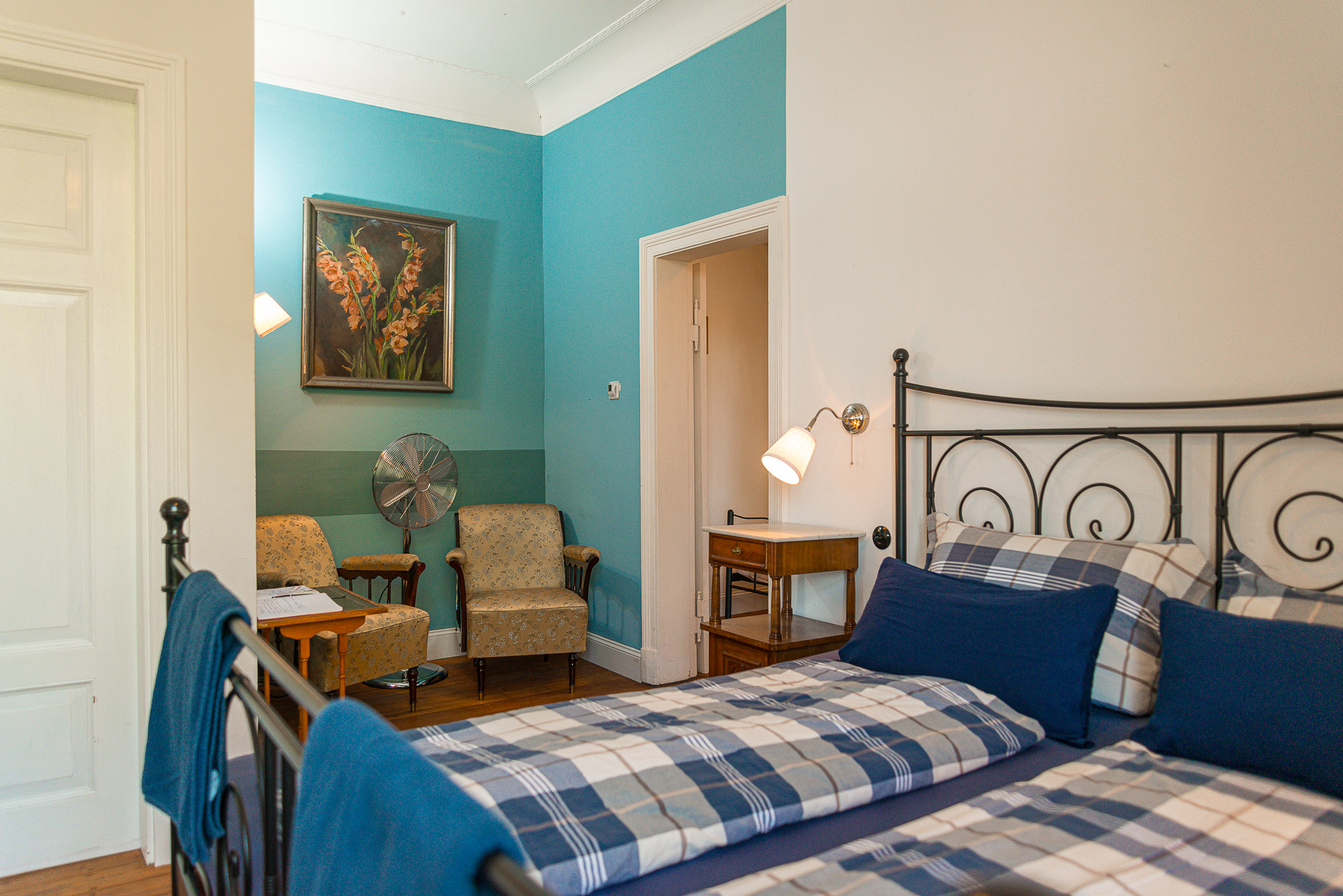 The Luxury Suite
Our huge luxury suite is something very special. It consists of 2 large, separate bedrooms and offers plenty of space for up to 8 people - ideal for family gatherings.
In the first bedroom there are 2 Art Nouveau wooden beds, a sofa bed, a chaise longue and a double bunk bed (top 90cm, bottom 140cm mattress)
. The large closet from the founding period offers plenty of stowage.
In the 2nd room, the main room, you feel like a royal couple.
The huge, luxurious four-poster bed made of dark wood, from which you'll never want to get up, is the centerpiece
. The closet and the chest of drawers are from the Victorian period, the sofa from the 50s.
There is also an old smoking table from the 20s with a brass top and chessboard pattern
. The matching chess set is of course available.
Between the two rooms, there is the spacious daylight bathroom with a large ground-level shower and a stylish bathtub with claw feet
.
From this suite you have a wonderful view over the spacious garden and the Warnow.
Here you will find everything you need:
65m²

private bathroom with shower and freestanding bathtub

sitting area, 2 sofas
2 closets
books
WI-FI
Flat-screen TV
Price per night from
110 Euro
Our outside accommodations
In the outdoor area we have 2 Tiny Houses for you, Mrs. Schröder's Tea House as well as the boathouse at the Warnow with private access to the water. 
The Teahouse
Have you ever spent the night in a tea house? No? Then don't miss this opportunity. Our 10m² heritage-listed Tiny House is made entirely of wood and surrounded by nature on all sides. 2 large windows overlook the Warnow River, which flows directly under the house.
We have carefully decorated our Tea House and furnished it very cozily. There is a romantic custom made metal bed (160x200cm) with mosquito net, a small comfortable sitting area beneath one of the windows and an antique dresser. You'll also find an antique Moroccan lamp on the ceiling and a colourful tapestry above the bed. A small refrigerator, a kettle and a selection of teas provide everything you need for a close-to-nature vacation.
If you like, you can use the outdoor shower in summer, or you can use your own bathroom in the main house.
Here you will find everything you need:
10m²

outdoor shower and private bathroom in the main house

sitting area
fridge
kettle and Moroccan tea set
selection of teas
WI-FI
Flat screen TV + 

music system
What there is not:
Heating. On request we can provide a fan heater (for a fee).
Price per night from
60 Euros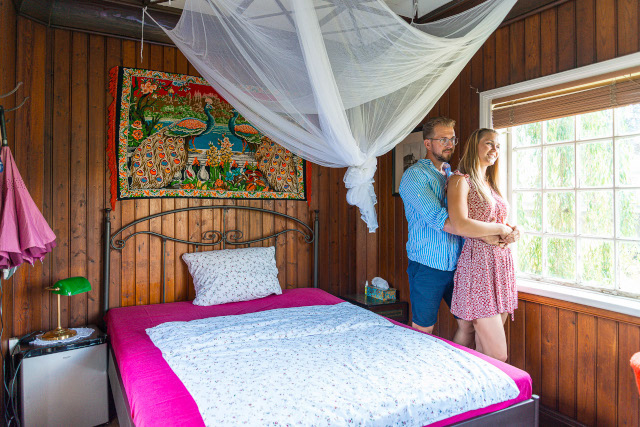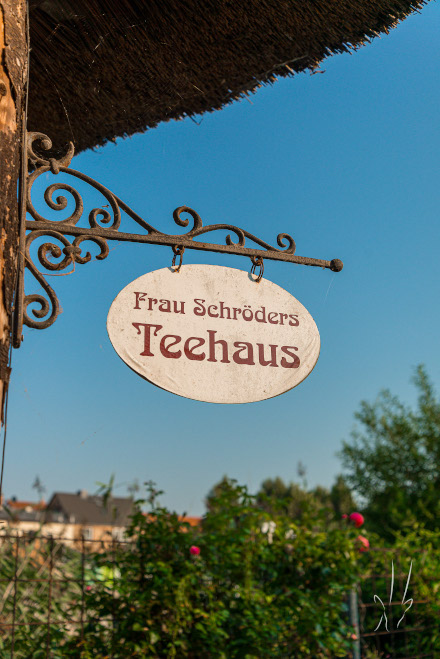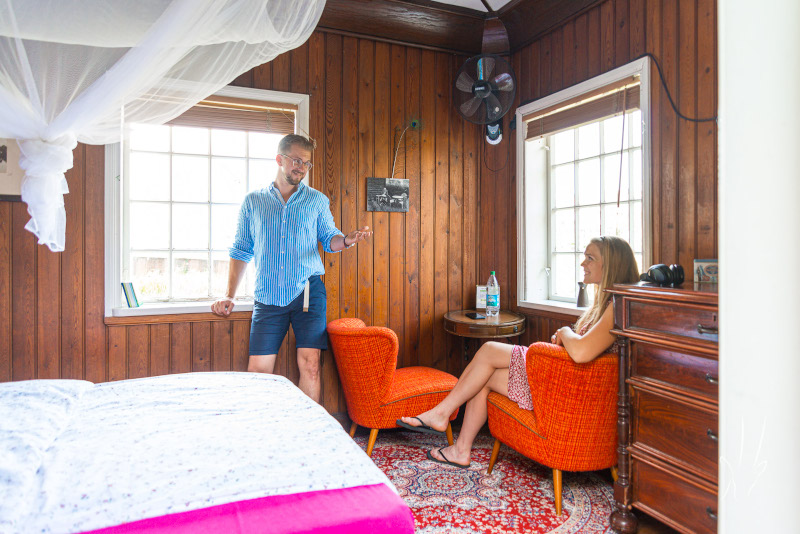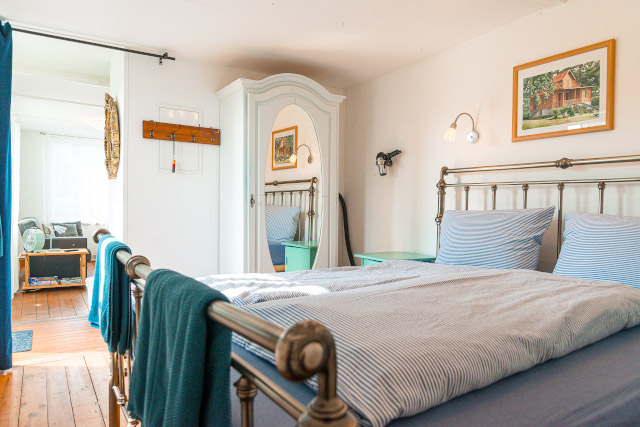 The Boathouse
In our boathouse, you are completely to yourself and yet only a few steps away from the main house. The light-flooded, 25m² Tiny House is located directly on the Warnow River and has its own garden with beach chair, barbecue and jetty. You can easily moor your own canoe, go fishing or simply enjoy the beautiful view of the river.
The bedroom of the cabin is equipped with a large double bed (180x200cm) with metal frame and a wardrobe in Art Nouveau style. In the 2nd room you find a fully equipped kitchenette with stove, sink, refrigerator, microwave, toaster, kettle and coffee maker. You can enjoy breakfast at the large dining table and end the day on the comfortable couch.
The bathroom has a shower (with biodegradable shampoo and shower gel) and an ecological separation toilet.
Parking is available directly in front of the boathouse.
Here you will find everything you need:
25m²

private bathroom with shower

fully equipped kitchen
sofa
closet
books
Flat-screen TV
*Plus 20 Euro Endreinigung
Amenities
This belongs to every room...
Free Wi-Fi
In all our accommodations, except in the boathouse, you have free wi-fi.
Parking lots
The villa has 2 parking spaces. If these are occupied, you can also park in the free public parking lot 400m away.
Private bathroom
All accommodations have their own ensuite bathroom with shower, in the suites there is also a bathtub. Guests of the tea house have their own bathroom in the main house.
Cosmetic tissues
There is a box of cosmetic tissues in each room.
Hair dryer
A hairdryer belongs in every bathroom, of course.
Shampoo + shower gel
There are shampoo and shower gel dispensers in every bathroom. 
Flat-screen TV
All accommodations have a flat-screen TV. 
Extra pillow + blanket, smoke detector
In case it gets too cold or too hot. In the tea house, an additional heater can be rented (5 € / day). Please note that smoking is strictly prohibited in all accommodations. 
Our rules
What else is important...
Checkin & Checkout
Check-in 15-19 o'clock, Check-out until 10 o'clock. Late check-out until 12 o'clock is possible (for an extra charge).
We try to accommodate changes as best we can.
Please let us know your approximate arrival time at least 4 hours prior to arrival.
Cancellation policy
Up to 7 days prior to arrival you can cancel free of charge. From the 6th day until the day of arrival you will pay an amount equivalent to 100%.
House rules
As we have a lot of animals ourselves, pets are not allowed in our house.
Smoking is not permitted indoors.
Parties and events are not allowed.
We are a B&B and not a hotel, so the rooms are cleaned only between guests. Extra cleaning (10 €), a set of towels (5 €) and bed linen change (10 €) are available for an extra charge.
Visit us
We look forward to meeting you!
If you have any questions about one of our rooms, our location, or how to get here, please write or call us! We will be happy to answer any question.